I'm 50 years young and feeling an urge to kick some butt! Tried a six string but my old, fat fingers just won't twist like I need them to. Figured that out the first time I tried to play an F chord. Fooled around with the bass about, oh, 20 years ago, before the internet. Didn't know anything and still don't. Did manage to figure out 5 or 6 songs. I recognized them but I'm not sure anyone else could. I suffered a major shoulder injury back in April and I'm currently out of work and don't know when...or if...I'll go back. Can't bowl or play softball anymore so I needed something to do for fun. So one night while sharing some brewskis with the boys, we got to talking music and the bug bit me. Been at it for just a little over a month. I am a sorry spectacle to behold but I'm having fun and after all, isn't that what it's all about? I'm ashamed to talk about my equipment, especially since I've not seen anyone here mention my brand. Remember I went el cheapo mundo and picked up a Crestwood 4 string. Using a borrowed Ampeg amp but know squat about it. So go ahead and laugh but at my talent level, even this equipment is too good for me.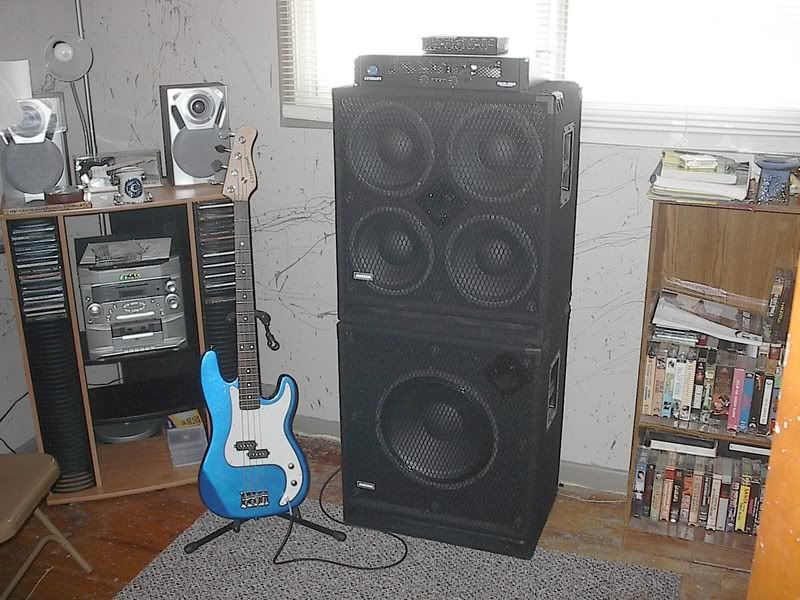 When I'm not pretending to play bass, I write. I've had some poetry and one short story published in some so called "literary magazines" which I figure is short hand for "we'll publish anyone's garbage as long as we don't have to pay any more than a copy." Also have some stuff published on the web...more freebies. I contributed a chapter to a book which should be out this spring (yep, freebie) but I'm pretty geaked about that. I'm currently working on a novel (aren't all writers?) and I'm less than half way finished. Hope to start shopping it this spring.
Couple pics of me and the music room: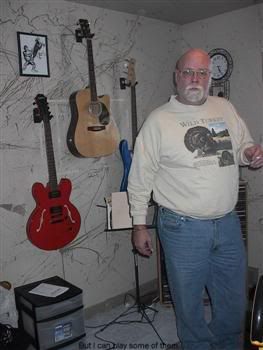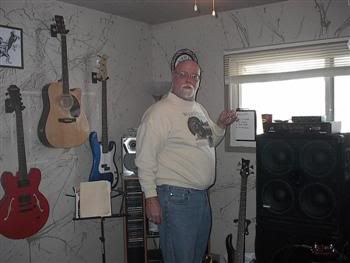 Aside from that I'm just your normal, average, run of the mill truck driver from the Motor City, land of Nugent, Seger, and some fine local talent. Married with children, I am. In fact, I'm what Al Bundy would look like if Peg cooked.