The Weather Here In Adelaide
After palying classical piano for 35 years about fifteen years ago I took up the bass guitar and surprised everyone - not the least me!
Although I now work in IT I am a trained electronics technical officer.
About fifteen years ago I moved to a new church. This was quite small and did not really have a sound system so I set myself the task of building up a half decent system. Although I had plenty of audio experience I had no experience with sound. However I quickly came up to speed and I put together a nice little system for them. I now attend a new church and play bass in the worship team there.
Although I work in IT I keep my hand in by building and repairing electronic equipment.
My guitars are a Cort A5 and Fender fret-less American series four string precision.
My cabs are a 4x8" quad and a 1x12". They are driven by a Hartke HA7000 and a Carvin R600.
The following pictures were taken by my son's Sony digital video camera. To see a larger image click on the pictures.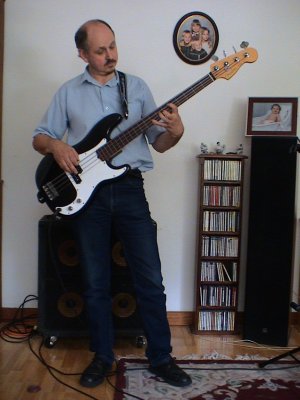 Me and my Fender. (Note the Picture of my children - from about 13 years ago and our first grandchild.)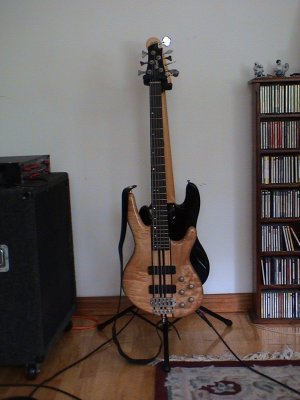 My Cort A5.
I bought this after my original Torch was stolen.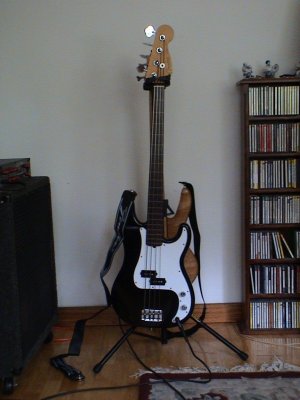 My Fender Freless American Precision fretless.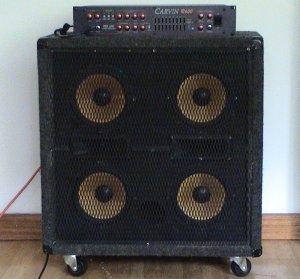 My 4x8 Cab with the Carvin R600.
It uses four 8" Audax drivers and two Motorola horns. The Audax drivers are used in top of the range HI-FI speakers and are extremely transparent. Each 8" is capable of 80W continuous power, so the cab can handle 320W without skipping a beat. The wide range transient handling would be way above that.
12 inch cab.
This uses a dual voice coil 8 ohm driver and a Motorola horn. It is rated at 250 watts.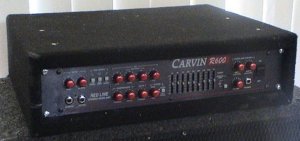 My Carvin R600.
My Hartke HA7000.
I get really bored with straight three or four and always want to go on a journey. I sometimes walk, I sometimes run, but I always want to make it interesting. I hate getting stuck in a rut. I like to play every song in a completely different style to suite the mood. I will sometimes play the same song differently depending on the mood. I want to add more styles, rhythms and riffs to my repertoire.
Some of my favourite lessons
Jazzing Up A Praise And Worship Song
- Ali Taylor
Bach: Chromatic Fantasy
- Bob Scott
Spider (Left Hand) Exercises
- Laurence Mollerup