www.myspace.com/maku021
I would say that my sound is like Modern Rock crossed with the smoothness of R&B. I try to get the tone that is somewhere between Will Turpin (Collective Soul) and Adam Clayton(U2). Mesa Boogie runs through my veins and are my favorite amps and cabs. Also, a fan of Orange Amps. Nova Tree (original & founding memeber) was my fist band and did really well playing all across the mid-west and getting regional radio air play and after 6 years we evolved into "Super Deluxe". John is still lead vocals, Brad lead guitar is back from Tempe, AZ, New Drummer Schmeebs, and my self move from Pop/Rock toward Modern Rock and snag more air play including 102.1 the BUZZ in Nashiville which leads us to open for the BUZZFEST headlining Velvet Revolver...also getting more opening gigs, but no contract. Now in Chicago... I am again looking for the next role that i am to play but not finding any "chemistry" with any of the bands that I played with this summer.
"Close Encounters of a Bass Kind" - aka my bass collection.
Mesa BIG BLOCK 750, Mesa Mpulse 600, Mesa Boogie Basis M-2000, Mesa Strategy 400, Mesa Boogie Buster All Tube Head, Buster combo as well, Ashdown SUPERFLY 500 watts, Ampeg SVT 4 Pro w/ BBE 482 Sonic maximizer. Aguilar Pre-amp DB 924, Sans Amp Bass Driver DI, Furman power supply, Korg DTR-1 RackMount, X-Wire wireless,
Cabinets 2x10 4x10 6x10 Mesa Boogie Diesel cabs. Mesa Boogie 1x15, 2x15, R5410 Powerhouse 1000, Powerhouse Jr. and R1516 Road Ready cabs. Mesa Boogie Buster 200 2x10 wedge combo. Genz Benz 1x12 cabs (2) of them. Ampeg RocketBass (BR100) 100 Combo. Monster cables (everywhere).
My Basses: Ernie Ball Stingray 4 rosewood fret, ErnieBall Stingray 4 maple fret, Musicman Sabre (PRE EB), Modulus Quantum 4 Sweetspot, 70's Fender Jazz Bass, Fender P Lyte, Fender American Jazz, Fender American P Bass Deluxe (Custom), Warwick FortressOne, Pedulla MVP, '74 Rickenbacker 4001, PRS Bass 5 string 1988, 2002 PRS 4 Maple top in whale blue (my fav.) this used to belong to Howie Epstein (Tom Petty and HeartBreakers). Gibson Les Paul Premium Bass, Peavey Cirrus 6 String, Epiphone El Capitan 4 string,
Other Stuff: Sennheiser Digital 1000 wireless. pedals used are: DOD envelope filter, Boss harmonist, DOD chorus, Morley flanger, DOD phaser, Morley Bass Pro Wah many other effects. I also only use Elixir Strings.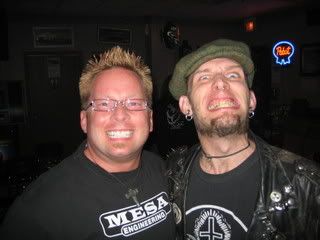 "MESA BOOGIE JUNKIE"