Hey Paul, it did come with the foam mute. When I turn the knobs it raises it, but eventually the knobs get so tight its impossible to do by hand. Even with the knobs turned as far as possible, they are still a good quarter inch from the strings.
Here's a pic, hopefully its clear enough: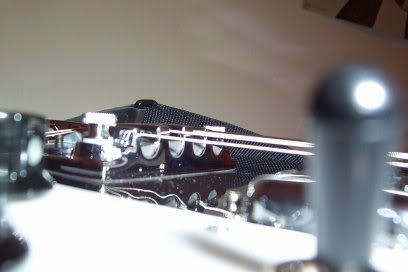 I turn the knobs clockwise to raise the mute. Is that the same for you, or am I not doing something right?
Also I was wondering if you put straplocks on yours. When I play standing up, the strap comes undone every five minutes! Can't have that happening when I'm playing with the band. I really have no experience at all with straplocks. Are they something that attach to the existing strap knobs, or do they replace the strap knobs completely?
Thanks for your help!